Designing Dreams. Delivering ARTechnative Experiences
D2D Art is a creative agency and collective representing unique international artists and creative technologists, working together to present, as well as design dreams and deliver alternative arts-driven experiences powered by technology.
Our aim is twofold:
• To be a catalyst for creative collisions, collaborations and innovations
• To open new doorways for the general public to step in and become pART of alternative, immersive, engaging, transformative experiences where Creativity and Art are the drivers and Technology the enabler.
Together with different identified selected artists and creatives, we promote, design, curate and create unique experiences which are inclusive, and inspire as well as engage audiences in interactive, innovative, and collaborative ways.
Our two Areas of Focus are
1. Creative Track
EXPERIENTIAL ARTS for Public Engagement, Place Activation & Beautification
2. Transformation & Innovation Track
ARTS EDUCATION & INNOVATION - promoting Capacity-Building (via experiential STEAM learning) as well as nurturing Growth and Innovation (through interdisciplinary collaborative experimentation) driven by Art-thinking approaches powered by Tech.
What We Believe
We believe in the combined power of art and technology to connect people across cultures, countries, backgrounds, ages; and its ability to deliver deeply inspiring compelling human experiences: "Experiencing creativity • Creating new experiences"
Art thinking drives our conceptual design processes and the overall approach of all the artists and creative professionals we work with whether the solutions are existing ones or newly designed customized ones.

In addition, we make sure that all solutions we promote, design and deliver place humans at the centre of our curatorial work; making them true discoverers, enquirers, dreamers, hands-on activators, performers, collaborators, experiencers dynamically engaged in compelling new experiences blending creativity and innovation at the intersection of arts, science, technology, design and storytelling.

What We Do
Services
Artistic Representation & Promotion
We represent local and international artists, collectives, multidisciplinary creative practitioners, and world leading specialized art & tech organizations, taking on the role of an artistic agency.
Creative Conception and Direction
Beyond that, we act as concept and solution provider to clients looking for unique existing or customized ARTech solutions - that are experiential, engaging, innovative and/or transformative in nature and that help redefine arts entertainment, storytelling and public engagement in the process.
What we do is not only a service to the client, but to creatives and the public at large.
Tracks
Creative Track:
We open Doorways onto Experiential Arts, whereby our viewers become experiencers, dreamers, active discoverers and co-creators in the activated space. Our ARTechnative experiences created by our international new media artists and/or designed together with them, come in the form of Live Performances and Art Installations.
Transformation & Innovation Track:
We also like to offer / design opportunities for Interdisciplinary Learning, Experimentation, Cross-Collaboration, Creative Transformation and Innovation.
In this regard, we act as catalysts promoting Experiential STEAM Learning (through workshops and hackathons), fostering Experimental Collaborations, as well as showcasing in a Pop-Up format multidiscplinary outcomes stemming from our workshops and collaborations.
Collective
On the side, we are identified as a collective working and involving local multi-disciplinary talents and professionals together with international experts.
As a collective, we aim to develop in the long-run a community, ecosystem and platform, in Egypt and the MENA region, supporting and nurturing local talents and the community at large.
Experiential Arts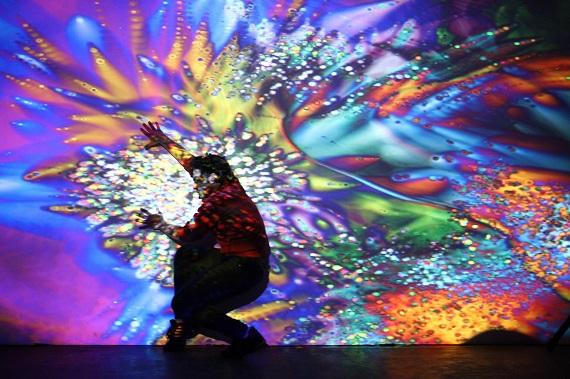 Arts Education & Innovation
,